I've covered most all of these (and much more) in previous broadcasts, but this is a pretty good compilation

.
This article posted in its entirety on EndOfTheAmericanDream.com
Every Breath You Take, Every Move You Make – 14 New Ways That The Government Is Watching You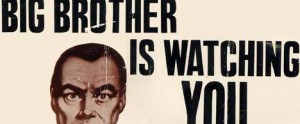 If you live in the United States today, you need to understand that your privacy is being constantly eroded. Our world is going crazy, government paranoia is off the charts and law enforcement authorities have become absolutely obsessed with watching us, listening to us, tracking us, recording us, compiling information on all of us and getting us all to spy on one another. If you doubt that we are rapidly getting to the point where the government will monitor every breath you take and every move you make, just read the rest of this article. The truth is that the government is watching you more closely than ever, and they are spending billions upon billions of dollars to enhance their surveillance capabilities even further. If our society stays on this current path, we will eventually have zero privacy left. At this point, it is not too hard to imagine a society where we will not be able to say anything, buy anything, sell anything, assemble with others or even leave our homes without government permission. We truly are descending into a dystopian nightmare and the American people had better wake up.
Sadly, most people living in the United States and in Europe do not realize what is happening. Most of them think that everything is just fine. The "Big Brother control grid" that is being constructed all over the western world squeezes all of us just a little bit tighter every single day, and most people don't even feel it.
But when you step back and take a look at the big picture, it truly is horrifying.
The following are 14 new ways that the government is watching you….
#1 In many areas of the United States today, you will be arrested if you do not produce proper identification for the police. In the old days, "your papers please" was a phrase that we used to use to mock the tyranny of Nazi Germany. But now all of us are being required to be able to produce "our papers" for law enforcement authorities at any time. For example, a 21-year-old college student named Samantha Zucker was recently arrested and put in a New York City jail for 36 hours just because she could not produce any identification for police.
#2 The federal government has decided that what you and I share with one another on Facebook and on Twitter could be a threat to national security. According to a recent Associated Press article, the Department of Homeland Security will soon be "gleaning information from sites such as Twitter and Facebook for law enforcement purposes".
Other law enforcement agencies are getting into the act as well. For example, the NYPD recently created a special "social media" unit dedicated to looking for criminals on social media networks such as Facebook and Twitter.
#3 New high-tech street lights that are being funded by the federal government and that are being installed all over the nation can also be used as surveillance cameras, can be used by the DHS to make "security announcements" and can even be used to record personal conversations. The following is from a recent article by Paul Joseph Watson for Infowars.com….
Federally-funded high-tech street lights now being installed in American cities are not only set to aid the DHS in making "security announcements" and acting as talking surveillance cameras, they are also capable of "recording conversations," bringing the potential privacy threat posed by 'Intellistreets' to a whole new level.
#4 More than a million hotel television sets all over America are now broadcasting propaganda messages from the Department of Homeland Security promoting the "See Something, Say Something" campaign. In essence, the federal government wants all of us to become "informants" and to start spying on one another constantly. The following comes from an article posted by USA Today….
Starting today, the welcome screens on 1.2 million hotel television sets in Marriott, Hilton, Sheraton, Holiday Inn and other hotels in the USA will show a short public service announcement from DHS. The 15-second spot encourages viewers to be vigilant and call law enforcement if they witness something suspicious during their travels.
#5 The FBI is now admittedly recording Internet talk radio programs all over the United States. The following comes from a recent article by Mark Weaver of WMAL.com….
If you call a radio talk show and get on the air, you might be recorded by the FBI.
The FBI has awarded a $524,927 contract to a Virginia company to record as much radio news and talk programming as it can find on the Internet.
The FBI says it is not playing big brother by policing the airwaves, but rather seeking access to what airs as potential evidence.
Potential evidence of what?
This is very creepy. Why is the FBI so interested in what is being said during Internet talk radio programs?
#6 TSA VIPR teams are now conducting random inspections at bus stations and on interstate highways all over the United States. For example, the following comes from a local news report down in Tennessee….
You're probably used to seeing TSA's signature blue uniforms at the airport, but now agents are hitting the interstates to fight terrorism with Visible Intermodal Prevention and Response (VIPR).
"Where is a terrorist more apt to be found? Not these days on an airplane more likely on the interstate," said Tennessee Department of Safety & Homeland Security Commissioner Bill Gibbons.
Tuesday Tennessee was first to deploy VIPR simultaneously at five weigh stations and two bus stations across the state.
#7 Thermal imaging face scanners are becoming much more sophisticated. Law enforcement authorities in the western world are getting very excited about "pre-crime" tools such as this that will enable them to "prevent crimes" before they happen. The following is from a recent BBC News article….
A sophisticated new camera system can detect lies just by watching our faces as we talk, experts say.
The computerised system uses a simple video camera, a high-resolution thermal imaging sensor and a suite of algorithms.
Researchers say the system could be a powerful aid to security services.
But face scanners are not just a tool that will be used in the future. The truth is that face scanners are being used all over the United States right now. The following comes from an article posted on Singularity Hub….
Law enforcement continues to adopt new technologies in an effort to make their jobs easier and keep us safer. The latest gizmo attaches to officers' iPhones and turns them into biometric face scanners. The scanners have already been street tested in Massachusetts. Pretty soon cops all across the US will be using them to ID suspects.
Before long, technology like this will be all over America. In fact, the FBI has announced that it will be activating a "nationwide facial recognition service" in January.
Read Ways #'s 8 through 14 by going to:
http://endoftheamericandream.com/archives/every-breath-you-take-every-move-you-make-14-new-ways-that-the-government-is-watching-you